Cabbage Patch Kids that were made in Japan exclusively for the Japanese market had very unique outfits. One of my favorites is the Elegance Line dresses. Here is a picture of some original Tsukuda Elegance Dresses.
I wanted to make my own because they are so rare, I haven't been able to find any like this. Just by going off of this photo, I made my own: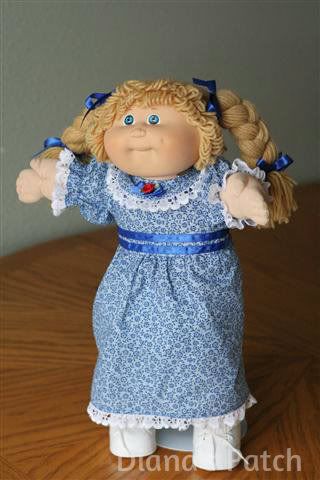 I used the Pattern
Butterick 6509
and changed it a bit. I drafted my own collar for it, made the bodice a little longer (about 1/2"), and used a 22.5"x 8" piece for the skirt. I used 3/8" ribbon. I sewed a zipper in the back.
Here are some pictures of my progress:
Sleeve
Casing for the sleeve
Elastic in the sleeve
Sleeve
Sewing the sleeve onto the bodice
Basting the lace on the colar
Both collar pieces right sides together
I used a strip of the same fabric to make bias tape to go around the collar after I basted the collar to the bodice.
Skirt
Dress so far
Back Edge of Dress. I folded over both sides of the dress 1/2", pressed, then basted the sides right sides together, then basted the zipper on. The zipper was tricky because the dress is so small. I had the dress right side out and basted the zipper from the inside of the dress. I wish I'd taken a picture of it while I did it. Then I flipped the dress inside out and sewed the zipper as it was unzipped.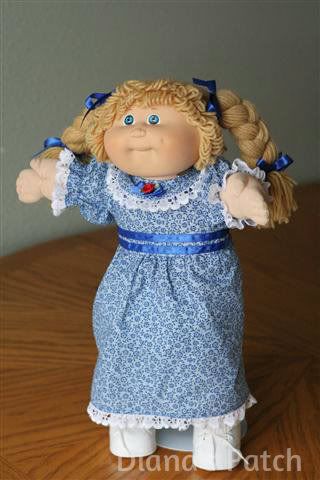 What would have made this dress easier would be if I had put the ribbon on before sewing it together, and it would be better if I had put the zipper on before finishing the collar. That way I put the bias tape around the zipper top.